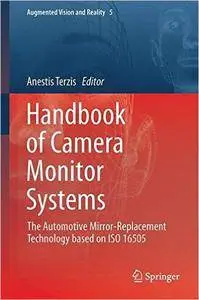 Handbook of Camera Monitor Systems: The Automotive Mirror-Replacement Technology based on ISO 16505
English | ISBN: 3319296094 | 2016 | 552 pages | PDF | 20 MB
This handbook offers a comprehensive overview of Camera Monitor Systems (CMS), ranging from the ISO 16505-based development aspects to practical realization concepts. It offers readers a wide-ranging discussion of the science and technology of CMS as well as the human-interface factors of such systems. In addition, it serves as a single reference source with contributions from leading international CMS professionals and academic researchers.
In combination with the latest version of UN Regulation No. 46, the normative framework of ISO 16505 permits CMS to replace mandatory rearview mirrors in series production vehicles. The handbook includes scientific and technical background information to further readers' understanding of both of these regulatory and normative texts.
It is a key reference in the field of automotive CMS for system designers, members of standardization and regulation committees, engineers, students and researchers.