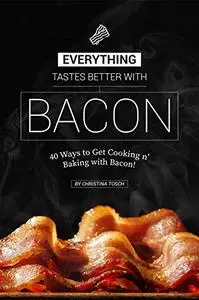 Everything Tastes Better with Bacon: 40 Ways to Get Cooking n' Baking with Bacon!
2019 | ISBN: 1687472645 | ASIN: B07WRLNK1M | English | 137 pages | EPUB | 2 MB
This recipe book is perfect for all those bacon lovers out there.

And while a little over 40 percent of us grill our bacon, and a third prefer to fry it, it's also perfect cooked in the microwave or even baked in the oven.

Although most commonly served with eggs and pancakes or in a BLT sandwich, bacon tastes just as good in pastas, salads, soups, casseroles, and more.

Bacon is not only an ideal ingredient for savory dishes but it's also the star of the show in a low of sweet and savory recipes too.

Cooking and baking with bacon showcases a collection of the best bacon recipes for appetizers, sides, brunch, lunch, and mains. Plus, we've included a selection of sweet n' savory treats.

Everything tastes better with bacon including:

• Bacon and Lime Sweet Potato Salad
• Creamy Cauliflower and Bacon Soup
• Egg and Bacon Pizza
• Lamb and Bacon Casserole
• Date and Bacon Scones
• Apple Cheddar Bacon Crumble

So, crank up your oven, heat up your grill, fire up that frying pan, and dust off that microwave it's time to get cooking and baking with bacon!